Background
World temperatures are rising because of human activity, and climate change is now threatening every aspect of human life. Under this circumstance, carbon neutrality has been adopted as a feasible and effective way to mitigate negative impacts of climate change because it can reduce total greenhouse gas emissions.
In the process of carbon neutrality, electric vehicles become more and more prevalent all over the world owing to its zero-emission, low-noise, low maintenance and shrinking operation cost. According to surveys, the global electric vehicle scale has taken a huge leap forward and faces unpredictable growth in the near future. So do EV charging station scale. However, it is hard to remotely manage such a large quantity of decentralized EV charging stations.
Challenges
Low Capability of Data Transmission
Many stakeholders will be delayed to receive the field data of charging and metering.
Difficulty of Troubleshooting
The full suite of services is offered by various providers for which it will be hard for troubleshooting when any issue occurs.
Obstacle in Maintenance & Management
The scattered charging stations with complex structure will bring great difficulties to on-site technical personnel for the devices maintenance and management.
Dilemma to Approach Charging Station When Vehicles Run out of Power
Most charging points are deployed in challenging environment where it would be difficult to approach.
Lack of Redundant Link Support
Sometimes redundant link support Is also in the list of technical requirements.
Solution
In view of the above issues, Milesight releases a feasible solution, providing an easy-setup, operationally efficient, and cost-optimal plan for EV charging stations and making it possible to realize remote control with the wireless 3G/4G design as well.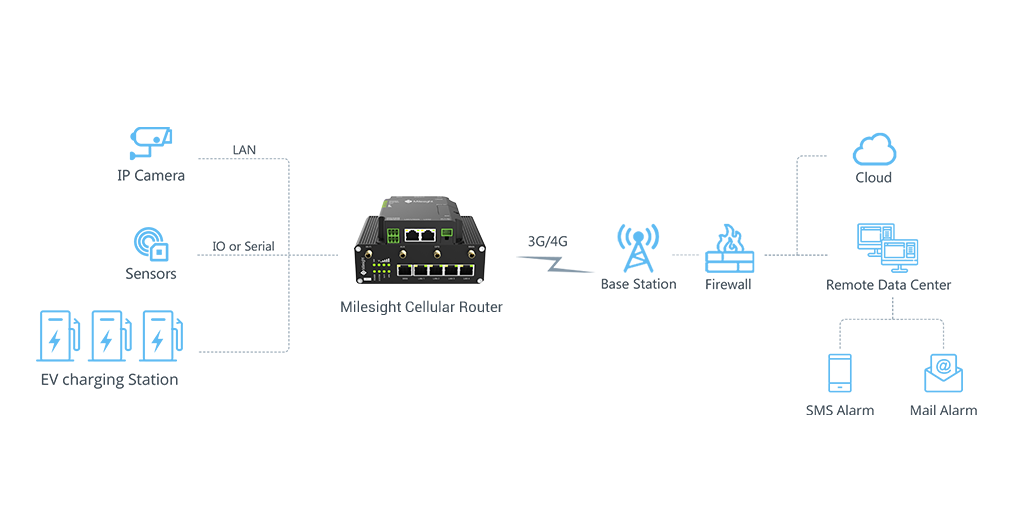 The solution comes with EV, EV charger, Milesight cellular router, and cloud management software from EV charger manufacturer or a third party. Wherein, the Milesight industrial cellular router plays a crucial role of providing a high-speed and stable networking and transparent link for the charging and metering data transmission so as to analyze and monitor the devices with prompt response, by which leads to a desired outcome of cost reduction.
Solution Benefits Based on Milesight Cellular Router's Features
Help More Devices Connect to the Internet
Milesight router helps connect to the Internet via wireless 4G/3G/GPRS technology for the charging point placed in an environment where it's too difficult or expensive to deploy optical network.
Send Essential Data to Management Software Timely
Automated fail-over/fail-back between Ethernet and cellular (dual SIMs) feature ensures all data to be sent to the management software timely.
Guarantee Secure & Stable Communication
Multiple options of VPN (IPsec, OpenVPN, DMVPN, GRE, L2TP, PPTP) with different encryption methods ensure the secured and stable communication.
Ensure Light Transmission of Large Data
Featuring 2 or 5 Gigabit Ethernet ports, a Milesight cellular router is all you need for each charging station and gets you into light transmission of large data from multiple EV chargers.
Receive& Transfer Multiple Operating Parameters
Serial ports (RS232 & RS485) and I/O interface help you receive and transfer EV chargers' voltage, current, power distribution and other operating parameters.
SendAlerts of out-of-Compliance Equipment Timely
SMS alarm & mail alarm system provide ability for engineers to take corresponding actions in no time by sending them the alerts of those out-of-compliance equipment.
Support Secondary Development
Embedded Milesight SDK (Python 2.7/C) helps secondary development in SSD/Micro SD card.
Offer a Degree of Protection Against Water & Dust
Industrial design with IP30 protection class helps to function properly in the most demanding environment.
Electric vehicle is a critical first step towards a zero-carbon world, and Milesight escorts for a zero-carbon future through better management of EV charging stations.
About Milesight IoT
At Milesight IoT, we are passionate about the connectivity of "things" to the cloud. We leverage the value of the top trending technologies that transform the world we live in and are committed to our partners who share the same passion. We believe that the complexity of data collection, storage, and retrieval can be simplified into the Cloud-intelligence. Our development and distribution of these appliances and services demonstrates our commitment to digital transformation and continues to deliver compelling connectivity for the IoT world. For more information, please visit www.milesight-iot.com.