From office employees to retail shoppers, from hotel guests to patients at a hospital, building occupants are demanding a more customized, comfortable, and smart building experience. Smart and connected LED-based solid-state lighting (SSL) is a key part of the picture and control systems also need to account for HVAC systems, air quality, and more. Building owners and managers are responding to these changing needs by providing smart building solutions while also focusing on energy efficiency and sustainability goals. Power over Ethernet (PoE) may provide the technology to meet pain points and enable smart building solutions. In the guest rooms at the Sinclair, Autograph Collection hotel in Fort Worth, TX, occupancy sensors, smart thermostats, digitally controlled showers, lighting, shades, and connected mirrors use PoE. Beyond guest benefits, the installation was driven by the energy savings (roughly 30–40%) the hotel expects to see as a result of the PoE system.
PoE is well known, garnering most of its success from use in IP-connected phones, Wi-Fi access points, and cameras. Beyond these applications, the growing intelligent building market uses PoE in connected lighting, sensors, and other building controls. For example, lighting's application of PoE is enabled by the low-voltage DC power and digital nature inherent to LEDs. While new PoE standards provide the opportunity for additional use cases and growth, this technology still faces barriers such as market awareness, cost, IT/OT (operational technology) convergence, and an unclear value proposition. PoE has a pathway to significant market adoption if these barriers are overcome.
Understanding PoE
PoE uses wired Ethernet networks to transmit power and data through one cable. From a technological standpoint, PoE and LEDs are natural partners. Ethernet provides data and low-voltage DC power for everything from phone systems to cameras. PoE brings the potential for low-voltage devices to be installed away from AC power sources, such as in a ceiling. A PoE lighting system eliminates the AC-to-DC power conversion within each lighting fixture, improving overall building efficiency. Given these characteristics, PoE can apply the low-voltage, DC, and digital features of LEDs to potentially deliver lower connected-lighting system installation costs. These costs are lowered by eliminating AC wiring and reducing the energy use of LED lighting systems, while simultaneously delivering data transfer needs.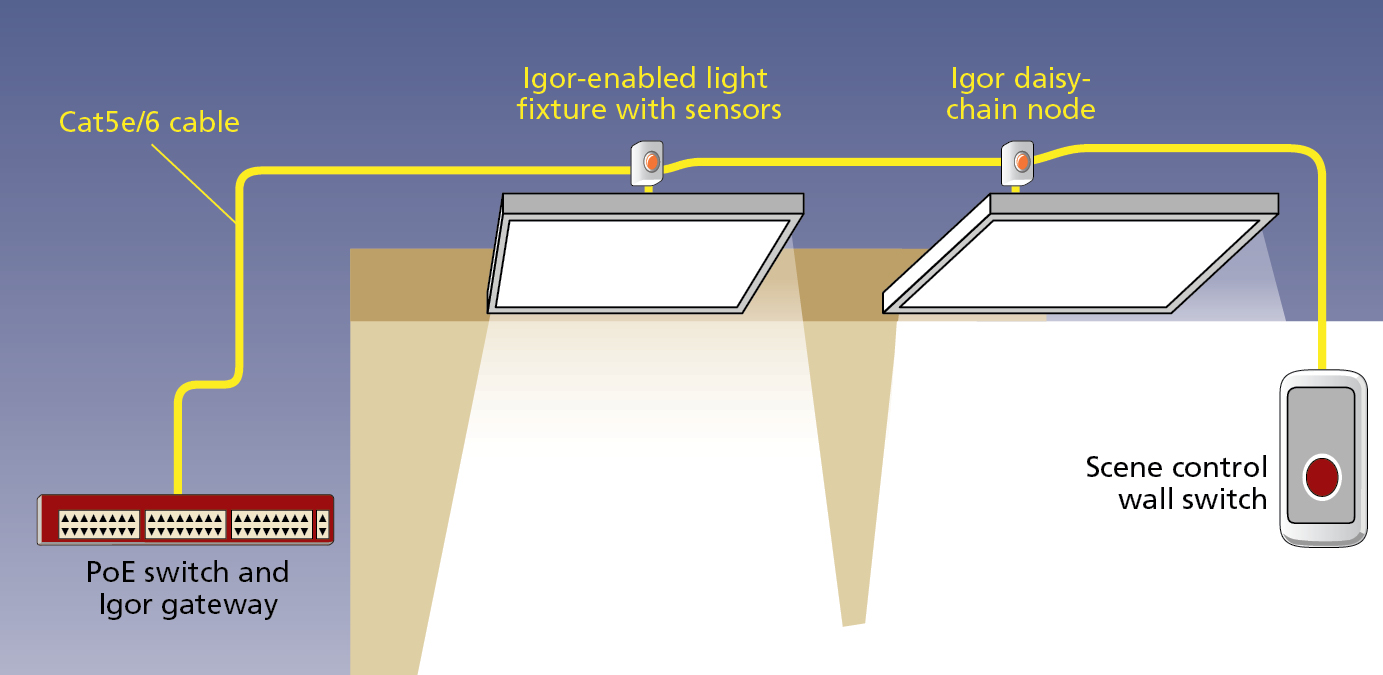 FIG. 1. In an example of a PoE lighting system, all devices are networked and powered using standard Cat5e/6 Ethernet cable. Image credit: Illustration courtesy of Igor.
PoE lighting systems contain multiple components, as seen in Fig. 1. The PoE switch — the power supply for the PoE lighting systems — provides the needed voltage for the lighting system. LED luminaires are connected to the PoE switch through Ethernet cables, which also connect to wall switches and sensors. These systems can be daisy-chained to maximize the usage of each port.

New PoE standards drive increased adoption
The Institute of Electrical and Electronics Engineers (IEEE) 802.3af PoE standard was the original international standard for PoE transmission. Developed in 2003, the standard supports the delivery of up to 15.4W PoE per port. In 2009, the updated 802.3at PoE+ standard was created, which supports up to 30W of power per PoE+ port. The PoE+ standard enables an increase in power that has amplified the number of devices supported by PoE. Even with the increase in power per port from the 2009 standard, this was still not enough for many building automation devices.
Cisco was a key proponent in increasing the voltage supplied by Ethernet. By 2013, Cisco's Universal PoE (UPoE) extended the IEEE PoE+ standard to double the power per port to 60W. Companies began offering PoE products with 60W to meet Cisco's UPoE, before an official standard with increased power was adopted. In late 2018, a new higher power PoE standard, 802.3bt, was adopted. This new standard enables PoE power outputs for 60W per port (Type 3) and 90W per port (Type 4) by using all four pairs of a PoE cable. The previous standards called for power delivery over two pairs of a four-pair cable, rather than all four pairs (Fig. 2).

FIG. 2. Power is requested and sourced depending on the type and class of PoE device involved in the networking scheme. Image credit: Data courtesy of the Ethernet Alliance.
The new standard allows for the powering of an increased number of devices by PoE, such as large monitors, advanced cameras with heat-sensing functionalities, lighting embedded with sensors, desktop computers, and small residential appliances (such as microwaves and fans). Since the new standard's release in late 2018, it has led to renewed product development in the market and will allow PoE to drive digitization in intelligent buildings. Using PoE for connected lighting, sensors, smart thermostats, or digital signage allows building owners and managers, real estate developers, and corporations to address new customer demands for a smart building experience, reduce energy consumption, and address sustainability goals.

PoE lighting — Foundation for intelligent buildings
Market dynamics are changing thanks to the influx of data in commercial buildings. Occupants are demanding the experience of an intelligent building; spaces must be healthier, more comfortable, and tech-enabled. Due to the number of light points within a building, connected lighting systems have the potential to catalyze intelligent building transformation. PoE lighting systems can serve as one avenue for the increase of connected lighting within commercial buildings. A recent report by Navigant Research, a Guidehouse company, "Power over Ethernet for Digital Buildings," forecasts market growth at a compound annual growth rate of 14.9% over the next 10 years. The market value was estimated around $101.5M in 2019 and is expected to grow to $352.9M by the end of 2028 (Fig. 3). The more-than-tripled revenue in the next 10 years is driven by the new PoE standards, which allow for the expansion of use cases within buildings. PoE's reliability, controllability, costs, and ease of deployments are among other key drivers for its growth in commercial buildings.
In Stavanger, Norway, the Atea office building, which is equipped with Signify's PoE lighting and Interact Office software offerings, provides a glimpse into the real-world success of PoE. A goal of the office building was to provide a living lab that can showcase connected and integrated building systems. Signify and Cisco partnered to provide Atea, an IT infrastructure company, with a converged IT infrastructure that collects actionable data for monitoring, modeling,
and artificial intelligence applications. The building includes a personal lighting control app, an indoor location system that uses a combination of LED lighting and Cisco DNA Spaces, multi-feature sensors, and Li-Fi (light-based, high-bandwidth wireless communication). The connected luminaires are integrated with sensors that transmit data via the IP network and are deployed using Cisco Ethernet switches. The luminaires connect to the IP infrastructure using PoE. The converged IP network provides power and integration for the building's various systems beyond lighting, such as scheduling, meeting-room video cameras, and Wi-Fi.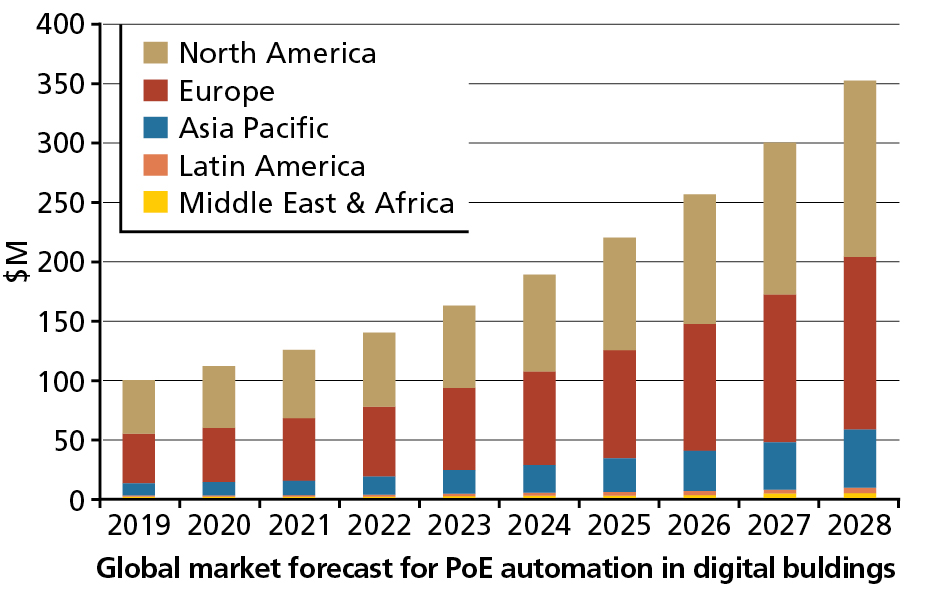 FIG. 3. Navigant forecasts PoE building automation revenue by region, with a global revenue of $352.9M in 2028, from $101.5M in 2019. Image credit: Illustration courtesy of Navigant Research.
Igor, a PoE-based Internet of Things smart building platform company, provides another example of using PoE lighting applications to advance intelligent building solutions. Igor provided Davidson High School in Mobile, AL an upgraded lighting system that integrates with the school's security system. The system includes gunshot detection and can send an alert through the intercom system while the lights simultaneously change colors during a crisis. Beyond
gunshot detection, the system incorporates weather alerts and can advise faculty and students to stay in place. Teachers also have the ability to call for help via a teacher assist button inside each classroom. Beyond the security functions of the new system, Davidson High School is using the color-changing capabilities of the
lighting system to increase student focus within the classroom. The ability to change the lighting (dependent on the activity) has allowed teachers to move more seamlessly through lessons. While Davidson High School is a pilot program for this system, the goal is to expand it to other schools within the district. The desire to increase school safety and improve the occupant experience are key drivers within the PoE digital building market.
Despite benefits, PoE adoption is limited
Despite the benefits that PoE provides for connected lighting and intelligent building applications, deployments of PoE offerings are limited. Where is the disconnect between proof of concept and actual adoption? The convergence of IT and OT is a major barrier in PoE adoption for digital buildings, and while this barrier is not unique to PoE, it is prevalent for many intelligent building solutions. As the commercial building industry shifts from siloed building automation systems toward smarter, integrated systems and buildings that operate on an IT network, there is also a shift in the purchasing and management of these systems. Historically, operation teams managed building automation systems. Bringing the IT and OT departments to the table for purchasing and management discussions
has not come naturally for most organizations and has created misalignment. Change management has created a barrier to entry for intelligent building solutions, including PoE offerings. The various stakeholders from IT, building engineers, facility management, and building owners approach these offerings with caution. This provides a challenge for vendors who must navigate new decision makers within these projects.
This change in structure of purchasing and managing PoE is fundamentally linked to a lack of customer awareness for this technology's lighting and other building automation applications. IT professionals are often unfamiliar with the potential advantages PoE provides while OT departments are unfamiliar with PoE infrastructure and do not think beyond illumination needs in conjunction with purchases and management of lighting. The lack of education surrounding PoE for building automation has improved over the past few years thanks largely to vendors working to promote this technology. While this has provided an increased interest in PoE for digital building applications, deployments are still limited. For PoE to gain traction for connected lighting and intelligent building applications,
vendors must accomplish the following:
Train and educate various stakeholders, from IT professionals to the C-suite.
Give customers examples of successful PoE projects with energy savings and non-energy benefits, such as improved occupant experience.
Build trust with clients for a successfullong-term partnership.

The past few years, vendors have worked to educate clients and gain contracts using PoE for intelligent building applications. The new construction process from design to completion is long, and can result in PoE installation delays from when the technology is first selected. While the number of actual PoE projects has been limited, 2020 has the potential to be the breakthrough year.