Background
The world is a place full of motion and inclination where many things are on the move. Different degrees of inclination in objects and machines will reveal a great deal about present conditions, as well as provide insights into worrisome trends and even impend failures. In this moving world, Milesight EM310 LoRaWAN® Tilt Sensor will do a great help.
EM310-TILT Tilt Sensor is an excellent choice for precise angle measurement and asset movement detection in applications that are performance-driven. It is a wire-free tri-axis acceleration sensor, using LoRaWAN® technology. With a compact size and triaxial accelerometer, it could be installed to the object easily to measure the X, Y, and Z tilt angles. It could also detect the movement based on angle changes and send threshold alarms. The data could be transmitted to Milesight IoT Cloud by Milesight LoRaWAN® gateway. Thus users are able to know the angles and tilt threshold alarms in real time via web browser and mobile app remotely.
Application Scenarios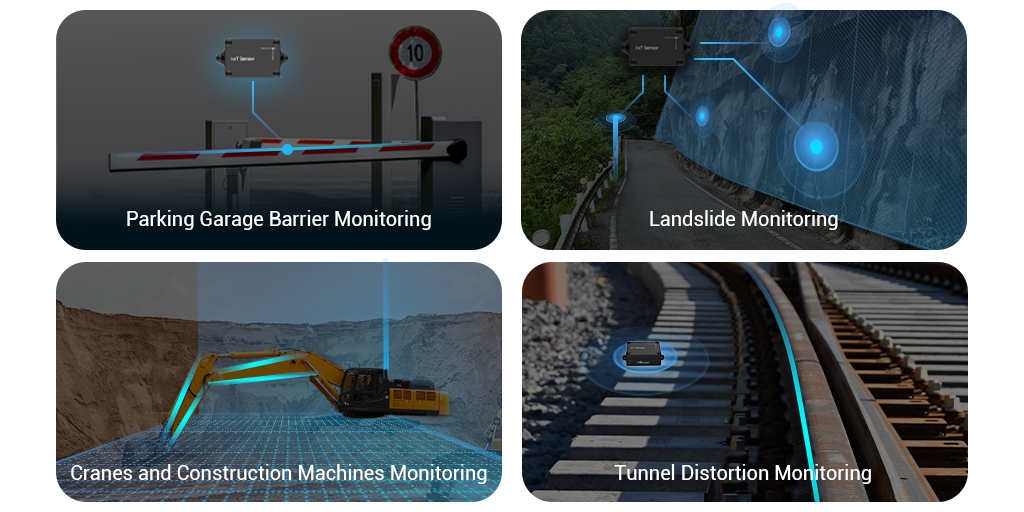 Tree Bending Monitoring
With the thriving of sustainability, trees are planted in more and more places, especially in cities to become more resilient. However, some trees have potential dangers of collapse after wind storms, typhoons and other natural disasters. Under these circumstances, Milesight LoRaWAN® Tilt Sensor can be installed at a certain height of trees to monitor their x, y and z values in real time, providing insights on the tree inclination and movement, thus it can help timely effective decision making and ensure the good overall protection of tree and people.
Parking Garage Barrier Monitoring
In car parking lots and parking garages, the normal operation of barrier is vital for normal charge of fare. Milesight EM310-Tilt is easy to install in the barrier housing and is particularly suitable for the angel measurement and movement detection of barriers to tell whether the barrier falls, bends or is broken, and if so, it will trigger alarms to maintenance people to take timely measures to ensure normal charge of fare.
Landslide Monitoring
The landslide threats are increasing due to the development in vulnerable terrain, climate change, deforestation and many more. Therefore, a timely warning solution can help save people's lives. Milesight LoRaWAN® Tilt Sensor can be attached to a rod inserting into the unstable soil layer on the sloped surface, and is able to reveal the movement of the rod with the landslide mass, thus know if there was a landslide, easy and cost-effective.
Cranes and Construction Machines Monitoring
Angel measurement is crucial to heavy industrial machinery (excavators, trucks, cranes, lifts, etc.). When a dumper truck or tipping vehicle is unloading the construction material, the center of gravity is constantly shifting due to the movement of the body of the vehicle. In the case of construction cranes, the crane arm should be in the safe length or angles. Milesight EM310-TILT can ensure the safety range of mechanical equipment by the angle range, avoiding serious mishap and playing a key role in personal safety.
Tunnel Distortion Monitoring
Tunnels and tracks are very crucial structures in transportation, which can be used for carrying freights, passengers and many more. So ensuring the surface flat and without distortion is of great importance. Milesight EM310-TILT can be mounted beside the track or the tunnel roof to monitor the vertical, horizontal and longitudinal direction in real time, which is an easy-to-use solution dedicated to monitoring tunnel disorders.
Topology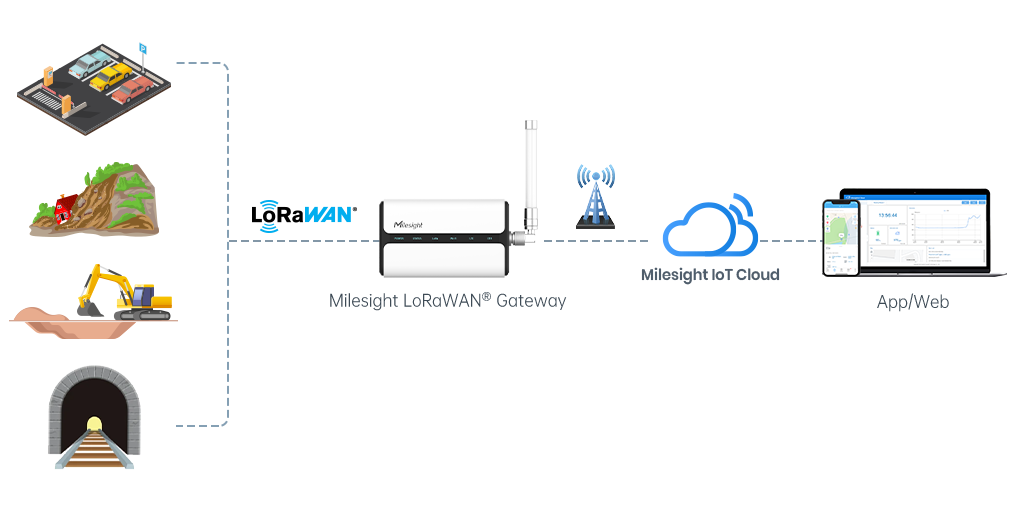 Solution Benefits
Remote Monitoring and Warning
Real-time data collection, processing, and transmission, allowing effective remote monitoring and warning.
LoRaWAN® technology enables low power consumption and maintenance-free feature, advancing long-term monitoring capability.
Easy Deployment of Sensors
Only the settings of a relative initial surface and angle threshold are needed, and the alarm will be triggered when the device's tilt angle reaches the threshold, straightforward and effortless.