AG7100 Boost Converter Module, 40W,
AG7100 Boost Converter Module, 40W,
Boost Converter Module, 40W, Isolated DC-DC converter, IEEE802.3at compliant, 11-27V In, 48/57V Out, DIL.
Terms and Conditions
30-day money-back guarantee
Shipping: 2-3 Business Days
Overview
Ag7100 provides a cost and footprint optimised 40W isolated DC-DC converter, to boost 12V/24V up to 48V/57V. It is perfect for PoE, PSE or other applications requiring a convenient solution with minimal additional components and easy integration. It is an ideal functional complement to the Ag6100 PSE module.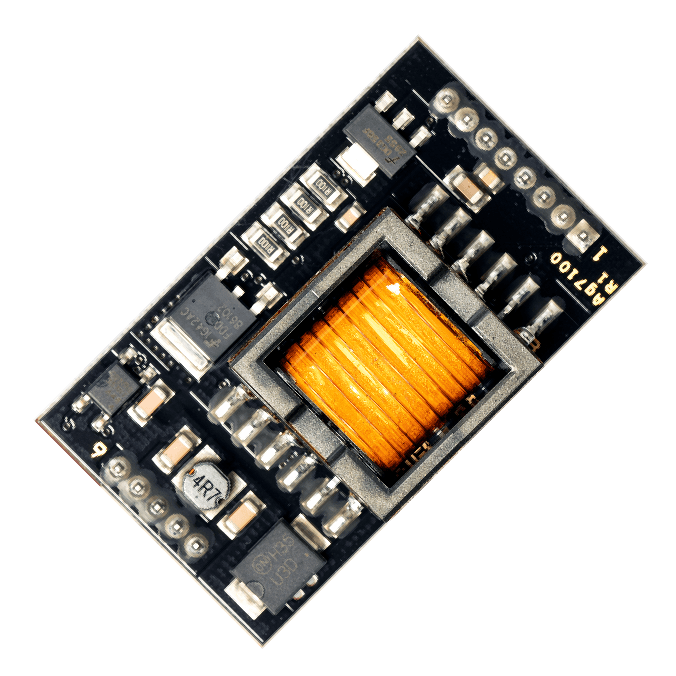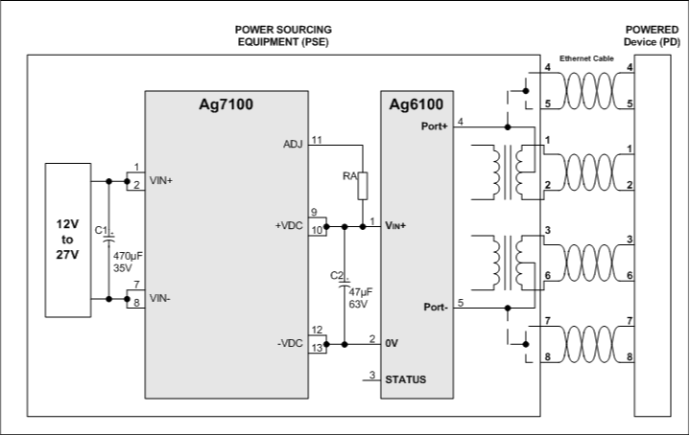 Features


Wide input supply 11V - 27V DC

Maximum power 40W

48V to 57V Output

Small footprint - 51mm(L) x 30mm(W) x16mm(H)

1.5kV isolation

Over-current, thermal & short circuit protection

High efficiency (>90%)

Low noise and output ripple

Simple integration
Evaluation Kits
This is Silvertel's new EVAL board to cover both the Ag7100 DC-DC converter and it's complementary and frequently associated Ag6100 PSE module.
It is designed to allow simple and combined or separate testing and evaluation of both Silvertel's Ag6100 POE PSE module as well as the Ag7100 DC-DC Boost converter. With either 12V or 24V nominal DC input, the output of the Ag7100 is linked on the Eval board directly to the input of the Ag6100 as it would be if being used to design a PSE power circuit. It is designed to provide a complete Power Sourcing Equipment (PSE) functional power block, when fitted with both modules, providing up to 40W of PSE output power onto the CAT5/6 cable as an output at either 48V or 57V.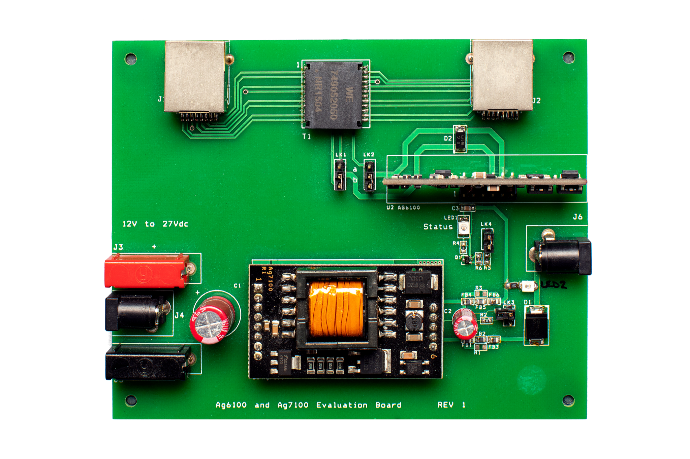 This is a preview of the recently viewed products by the user.
Once the user has seen at least one product this snippet will be visible.
Recently viewed Products
The Ag7100 module is a low noise DC/DC boost converter, designed to generate the higher voltages required for IEEE802.3 PSE applications from lower voltage supplies. This module provides exceptional efficiency (>90%) while providing full compatibility with the IEEE 802.3af and 802.3at power and isolation requirements.
The module accepts a wide DC voltage input range, from 12V to 27V. The input voltage is then boosted to generate the higher voltages required to power Silvertel's PSE modules (or compatible PSE circuits). The Ag7100 provides a regulated adjustable output, of between 48V and 57V. This provides compatibility with both IEEE802.3af and the higher power POE+ 802.3at PSE standards.
Ag7100 has been designed to provide an ideal solution for powering the Silvertel Ag6100 PSE module from a vehicle battery, 12V plug-top PSU or other commonly available power supplies. Its low cost, small footprint, high efficiency and in-built isolation make it an extremely versatile DC-DC boost converter for a wide range of potential applications. 
Subscribe to find out all the latest updates.