GS203F 4.5V 550mF Prismatic Super cap
Manufacturing Company :    
Cap-xx
GS203F 4.5V 550mF Prismatic Super cap
GS203F 4.5V 550mF Prismatic Super cap
Terms and Conditions
30-day money-back guarantee
Shipping: 2-3 Business Days
Overview


There are 3 series of products to suit your needs: DMF up to 5.5V, with very low ESR, down to 40m? to meet your power needs, and up to1F for energy storage; DMT which is a very long life part that can operate up to 85°C and up to 4.2V – ideal if paired with a Li-ion battery, or a 3.6V Lithium Thionyl Chloride battery in a set and forget long life, 10 – 15 year application such as a smart meter, building or industrial sensor; and DMH which is ultra-thin, 20mm x 20mm x 0.4mm, 4.5V, ideal for wearables, smart cards, applications where sleek design is key.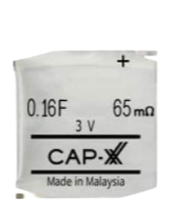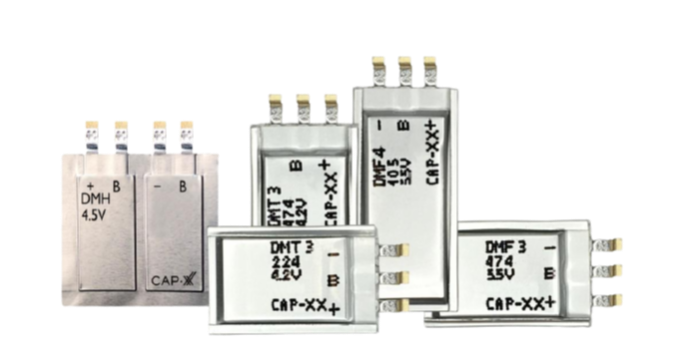 Features
Ultra-thin prismatic cells and modules: Ideal for use in space-constrained devices

Exceptional power density (up to 128 kW/litre), with best-in-class ESR (from 15 m?)

High energy density (up to 1.9 Wh/litre), offering high Capacitance in small cells

True, continuous operating voltage of up to 2.75V/cell (H series; 2.9V peak)

High temperature rating (H series; 85°C maximum)

Excellent low temperature performance (G series; ~2x nominal ESR at -30°C)

Very low leakage current (<1 µA) and ultra-low minimum charge current (<20 µA)

Virtually unlimited charge-discharge cycle life

Excellent frequency response (CEFFECTIVE)

RoHS and REACH compliant, Lead-free, Halogen-free and Conflict metal-free

UL-810 and ISO 9001:2015 certified
This is a preview of the recently viewed products by the user.
Once the user has seen at least one product this snippet will be visible.
Recently viewed Products
Subscribe to find out all the latest updates.